There are times when you almost feel sorry for them.
Seated courtside, innocently enough, wife Daria and coach Gilles Cervara are oftentimes on the receiving end of Daniil Medvedev's rants, his mid-match diatribes, as he seeks some frustration relief.
With his charge heading into a telltale fifth set against Filip Krajinovic in the third round of the Australian Open, Cervara had seen and heard enough. Medvedev had never before won a five-setter. It was best for all concerned, thought the Frenchman, if he vacated the premises and let Medvedev figure things out on his own. The ploy worked. Medvedev went on to win, 6-3, 6-3, 4-6, 3-6, 6-0.
But Cervara is the first to tell you that, when the Russian sounds off, it's nothing personal. It's just a glimpse into the Medvedev mind; him working out the puzzle in real-time.
"His game is like his personality — very different," explained Cervara in 2019, as Medvedev surged toward his first major final at Flushing Meadows. "It's like coaching a genius. Sometimes a genius, you don't understand them. It's like this. They're different. And you have to connect to this guy like he is."
John McEnroe, himself once an outside-the-box strategist prone to the occasional tirade, had a more Kasparovian comparison in mind: "He's like a chess master."
Since that Slam breakthrough at the US Open, when he pushed Rafael Nadal to the brink in a final that stands among the finest ever played in the borough of Queens, Medvedev, 25, has been a model of consistency, a man of many streaks. He swept his last 10 matches of 2020, including seven Top 10 wins and titles at both the Rolex Paris Masters and the Nitto ATP Finals. Carrying that over into 2021, his winning streak is now at 20.
"It's tough to keep this momentum going from London to Melbourne," said Medvedev, who since becoming the highest-charting Russian since Nikolay Davydenko in 2008 (No. 4 in the FedEx ATP Rankings), has gone from hunter to hunted. "I'm just happy that I managed to keep my game on top. Of course, for the confidence, when you beat everybody, it's just great, because I think people start maybe to be a little bit scared about you. At the same time, sometimes there are going to be some that are going to want to beat you even more. It's a tricky situation."
Now into the second Grand Slam final of his career, Medvedev is in for his biggest test yet in the form of eight-time champion Novak Djokovic. On paper, he's out of his league. Djokovic, after all, is seeking his 18th major singles title, one that would narrow the gap between himself and Big Three brethren Nadal and Roger Federer; Medvedev is still in pursuit of his first.
While he may be the hotter player, this one he'll have to earn the hard way. Despite suffering an abdominal injury in his five-set tussle with Taylor Fritz in the third round, Djokovic appears to be rounding into his familiar title-grabbing form.
"Being in this situation before many times I think helps me kind of gather all the necessary elements for me to peak at the right time, which is happening again," said Djokovic.
The top seed and two-time defending champion says he has no plans to hand over the title.
"When Novak says he's not going to hand anything to somebody, I believe him," said Medvedev, who convincingly straight-setted fifth seed Stefanos Tsitsipas in the semi-finals, 6-4, 6-2, 7-5. "I know that to beat him you need to show your best tennis, be at your best physically maybe four or five hours and be at your best mentally maybe for five hours.
"You never know how the match is going to go. To win a Slam, especially against somebody like Novak, is already a big motivation, and I don't think there's anything that can make it bigger. I like Novak. I appreciate him as a tennis player. So I don't take these words as something negative. I'm quite motivated without those words. I have nothing to lose, to be honest."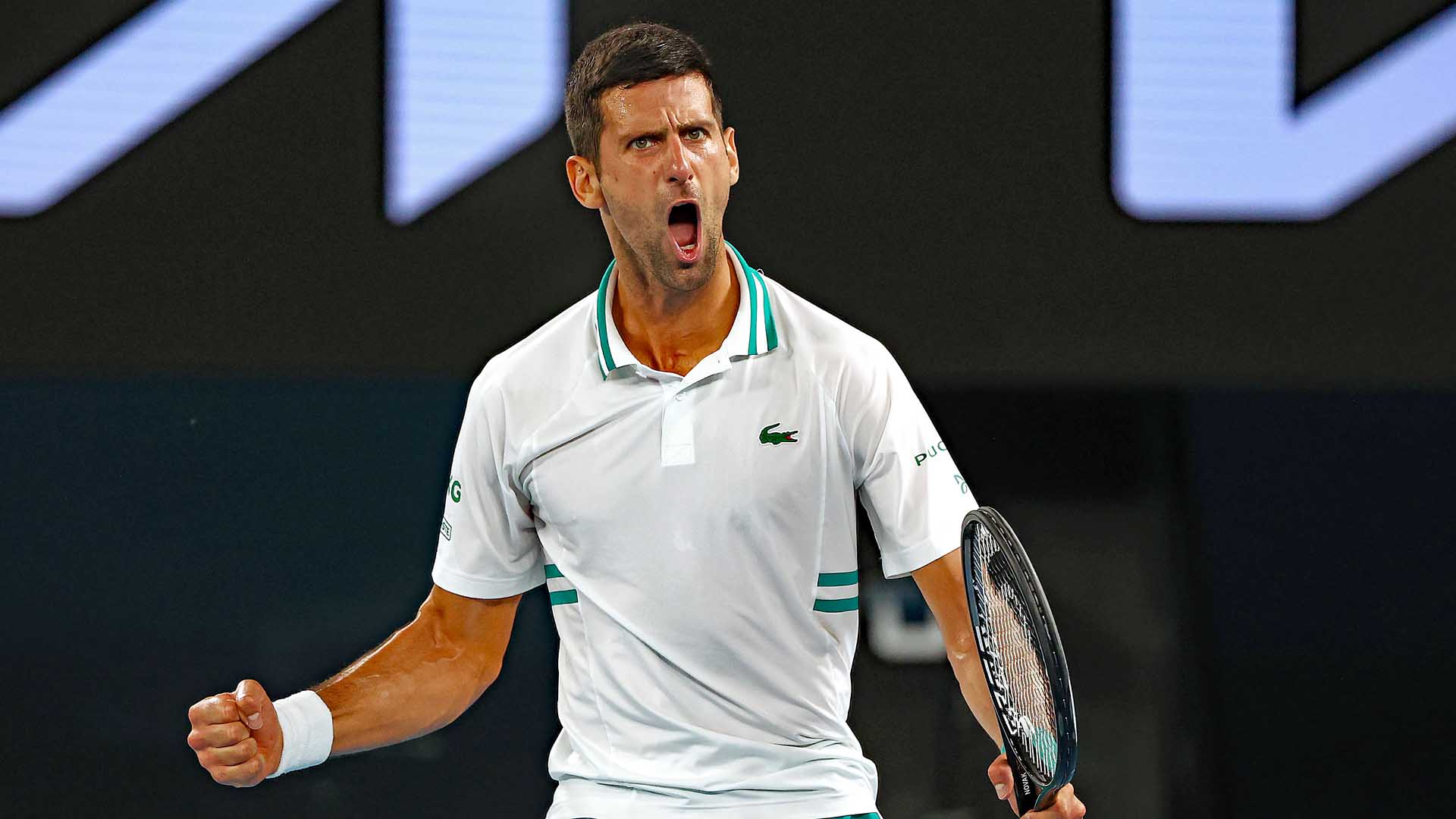 Djokovic, 33, boasts a slight edge in ATP Head2Head encounters, 4-3, including a 6-4, 6-7(5), 6-2, 6-3 Round of 16 win on the hard courts of Melbourne Park in 2019. But it was Medvedev who claimed their most recent meeting at the 2020 Nitto ATP Finals, 6-3, 6-3. Should he find a way to outthink the World No. 1 again on Sunday, he will rise to No. 2 in the FedEx ATP Rankings, becoming the first player not named Djokovic, Nadal, Federer or Andy Murray to do so in a decade-and-a-half.
"Daniil Medvedev is the player to beat," said Djokovic, who by defeating upstart Aslan Karatsev, 6-3, 6-4, 6-2, maintained his unbeaten record in Australian Open semi-finals (9-0). "He's on a big winning streak. He ended out the [2020] season in the best possible fashion, winning quite comfortably against the top players, against myself in straight sets in London, and he just has improved a lot. He has a big serve. For a tall guy, he moves extremely well. Forehand maybe was his weaker shot, but he has improved that, as well. Backhand is as good as it gets. He's so solid. He doesn't give you much. He's not afraid nowadays to attack and get to the net and take it to his opponents. He's definitely a very smart tennis player."
Yes, Medvedev has the strokes, the firepower to give fits even to someone who's owned Rod Laver Arena in recent years. But his best weapon might just be his mind.