Novak Djokovic is one victory away from writing another chapter in the Australian Open history books and claiming a record-extending ninth trophy at Melbourne Park.
It's a Grand Slam "love affair" that has been 13 years in the making, comprising almost half of the Serbian's 17 major titles. No other player has come close to Djokovic's mastery in Melbourne: He has won 81 of the 89 matches he's played (91%), including all eight finals.
In Sunday's final against Daniil Medvedev, Djokovic will attempt to win three consecutive Australian Open titles for the second time (also 2011-2013).
ATPTour.com looks back at Djokovic's eight triumphs in Melbourne Park to date, from his historic maiden crown in 2008 to his most recent victory in 2020.
2008
Djokovic made Serbian history when he became the first player from his country to win a Grand Slam at the 2008 Australian Open, but that was only the beginning. After years of promise, the 20-year-old broke through in Melbourne in a big way, turning heads with his baseline dominance as he reached his second consecutive Grand Slam final without dropping a set – including a crushing victory over World No. 1 and two-time defending champion Roger Federer in the semi-finals. Djokovic defeated an unseeded Jo-Wilfried Tsonga in the championship match 4-6, 6-4, 6-3, 7-6(2) to claim his first Norman Brookes Challenge Cup.
"[Up] to that point, I was a youngster that had a lot of potential and talent [and] was kind of working my way up. But winning a Slam is completely different," Djokovic reflected years later. "It opened a lot of doors for me. It allowed me to believe in myself that I can actually win the biggest tournaments in the world and challenge the best players in the world."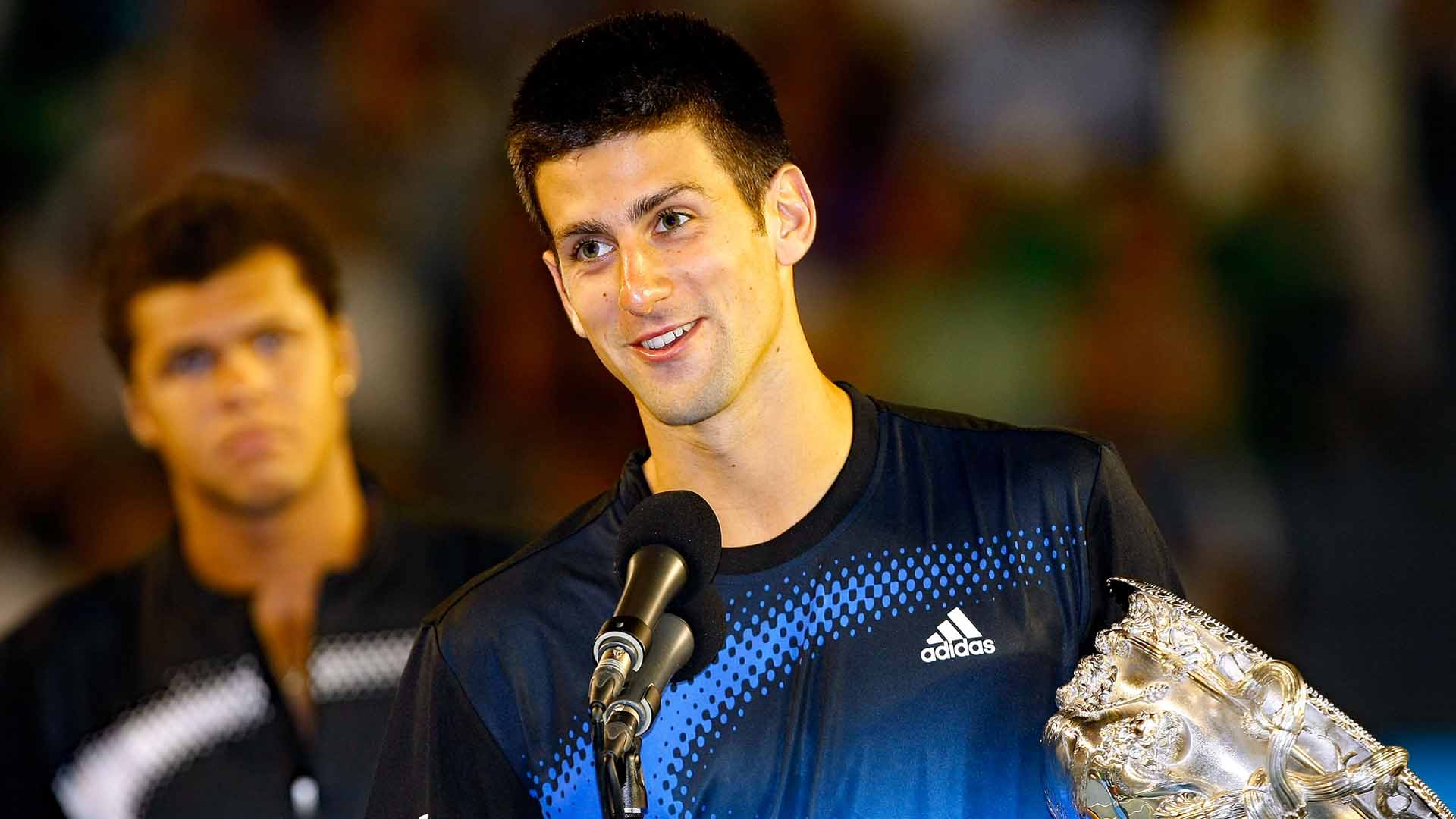 2011
Djokovic would have to wait three years for his second Grand Slam triumph, but once he cracked the code he would embark on a season that would go down in tennis history. Cutting out the gluten and dialing up the determination, Djokovic went from challenger to champion in 2011 when he lifted three of the four Grand Slam trophies and won five ATP Masters 1000 titles. He amassed a mind-boggling 70-6 win-loss record on the year – including a 41-match winning streak to start the season – and finished as World No. 1 in the FedEx ATP Rankings.
It all began in Melbourne Park, where the Serbian lost only one set the entire fortnight en route to the Australian Open title. Djokovic once again had to fight past the current No. 1 and defending champion Federer in the semi-finals, and overpowered Andy Murray 6-4, 6-2, 6-3 in the championship match.
2012
After a season that forever rewrote the tennis record books, 24-year-old Djokovic returned to the Australian Open in 2012 chasing down a more personal milestone: his first successful Grand Slam title defence.
Djokovic would have to achieve nearly inhuman feats of endurance to claim his fifth major crown. After being pushed to a close five sets by Murray in the semi-finals, the top-ranked Serbian then prevailed against Nadal in an epic war of attrition that took five hours and 53 minutes to complete. The longest Grand Slam singles final (in duration) in the Open Era ended at 1:37am on Monday with Djokovic ripping off his shirt and roaring in celebration.
Djokovic became the fifth man after Rod Laver, Pete Sampras, Federer and Nadal to win three consecutive majors in the Open Era; Nadal was his vanquished opponent in all three.
2013
Djokovic continued to make Melbourne Park his happy hunting ground when he became the first man in the Open Era to win three Australian Open titles in a row. His 2013 triumph was not without challenges, and the biggest test came from Stan Wawrinka in the fourth round. The Serbian was stretched to the limit before prevailing 1-6, 7-5, 6-4, 6-7(5), 12-10. In the final, Djokovic overpowered Murray in a rematch of the 2011 Australian Open final. He faced a much bigger challenge from the reigning US Open champion this time around, but still came out on top after a 6-7(2), 7-6(3), 6-3, 6-2 victory.
With his sixth Grand Slam title, Djokovic matched the likes of Boris Becker and Stefan Edberg as his name continued to climb up the men's all-time Slam titles list.
2015
Djokovic was determined to restore order in Melbourne after suffering an upset in the 2014 quarter-finals to Wawrinka, the eventual champion. Back to his usual world-beating self when he ran into the Swiss player a year later in the semi-finals, he claimed revenge in a roller coaster battle 7-6(1), 3-6, 6-4, 4-6, 6-0. Djokovic reestablished his grip on the Norman Brookes Challenge Cup with another victory against Murray in the final, closing out a perfect final set en route to a 7-6(5), 6-7(4), 6-3, 6-0 victory.
The Serb's eighth Slam title now tied him with Andre Agassi on the all-time list. But that was not his only reason to celebrate, after welcoming his firstborn Stefan with wife Jelena just three months earlier.
"I think it has deeper meaning, more intrinsic value now to my life because I'm a father and a husband," Djokovic said of the victory.
2016
The milestones kept piling up for Djokovic as he clinched the 2016 Australian Open crown in the midst of a historic period of dominance. It was his third consecutive Grand Slam victory en route to the "Nole Slam", which he would complete later that year at Roland Garros. Djokovic was rarely tested throughout the fortnight in Melbourne, navigating past Federer in the semi-finals and defeating Murray in their fourth championship match Down Under, 6-1, 7-5, 7-6(3).
After equalling Aussie legend Roy Emerson's pre-Open Era record of six Australian Open singles titles, Djokovic shook off the idea that he was "invincible" at Melbourne Park.
"I don't want to allow myself to be in that frame of mind," he said in 2016. "Because if I do, the person becomes too arrogant and thinks that he's a higher being or better than everybody else. You can get a big slap from karma very soon."
2019
Djokovic's words seemed to have become a self-fulfilling prophecy as the Serbian would spend two tumultuous years battling injury – including elbow surgery in 2018 – and suffering uncharacteristic defeats. Finally pain-free, he battled his way back to World No. 1 after falling out of the Top 20 in the FedEx ATP Rankings with back-to-back triumphs at Wimbledon and the US Open in 2018.
The 31-year-old was back to his winning ways in Melbourne, too. He cruised through the draw before handing long-time rival Nadal a crushing 6-3, 6-2, 6-3 defeat in their 53rd career clash to claim his 15th Grand Slam title. With the victory, Djokovic surpassed his childhood idol Pete Sampras for third place on the all-time Grand Slam title leaders' list, behind Federer and Nadal.
"It was definitely a sign of destiny to start playing tennis, to aspire to be as good as Pete," Djokovic said. "To surpass him with Grand Slam titles, I'm speechless."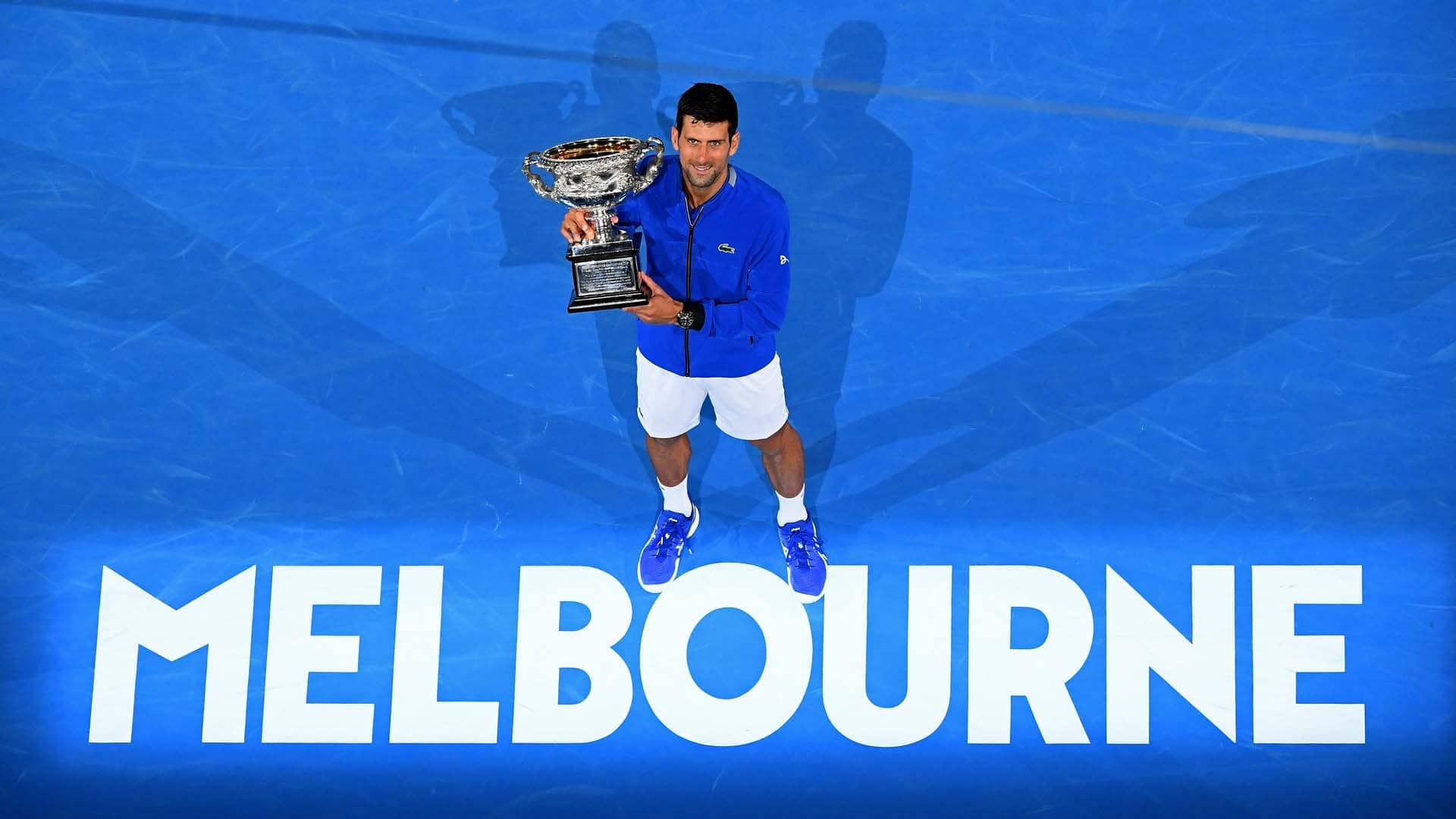 2020
Djokovic captured his eighth Australian Open title after maneuvering through a tough draw to return to the No. 1 spot in the FedEx ATP Rankings. He earned the 900th tour-level match win of his career in his opener against Jan-Lennard Struff, needing four sets to see off the German. Milos Raonic and nemesis Federer pushed him to tie-breaks but were ultimately defeated in straight sets. 26-year-old Dominic Thiem was waiting in the final, eager to claim his first Grand Slam title after reaching two previous finals. Djokovic would make him wait a little longer as he captured his 17th major crown with a 6-4, 4-6, 2-6, 6-3, 6-4 triumph.