Has anyone made themselves more at home in Paris' 16th arrondissement than Rafael Nadal, whose 13 titles at Stade Roland Garros stand amongst the most prodigious records in all of sports? Bjorn Borg and Roger Federer were veritable artists-in-residence on the summer lawns of the All England Club, each reeling off five consecutive championships in their prime. Though he didn't always leave with the trophy, Ivan Lendl became a fixture in the US Open final, appearing in a record eight straight title tilts during the Reagan years, as much a certainty as snarling traffic on the Triborough Bridge.
For the Australian Open, Novak Djokovic has been that constant, that dominant force who has become all but synonymous with the year's first major. Call it "a love affair," which the eight-time champion himself did last week.
"I've been feeling more comfortable on the court each year that I've been coming back," said the two-time defending champion, now into his ninth career semi-final on the hard courts of Melbourne Park. "The more you win, the more confidence you have and the more pleasant you feel on the court. It just feels right… When I stepped on the court this year for the first time in the practice session, I relived some of the memories from last year, also the other years that I won the tournament here. It just gives me a great sensation, great feeling, confidence."
Only this year has been unlike any other for Djokovic, for any of his ATP colleagues, for that matter. It's a COVID-19 world, after all. Quarantine restrictions took players out of their usual pre-tournament routines, forcing them to make the most of their limited time on the practice court. Then, just as he was getting his footing in Rod Laver Arena, the Serb took a spill on the court in his third-round clash with American Taylor Fritz. Though he would fight through it to prevail in five sets (some played in front of fans, some not), he had injured an abdominal muscle, and wasn't sure he'd be able to continue. He's soldiered on, but has now twice taken days off between matches to allow his body to recover.
There have been other unexpected turns. The 33-year-old finds himself matched up in the semi-finals against a virtual unknown in Aslan Karatsev, a 114th-ranked qualifier from Russia. All the upstart has done is stun seeds Diego Schwartzman, Felix Auger-Aliassime and Grigor Dimitrov in succession to become the first man in the Open Era to reach the semi-finals in his Grand Slam debut.
"He impressed me, impressed a lot of people," said Djokovic of Karatsev, a first-time opponent. "His movement, his firepower from the baseline. Flat backhand, Russian school, great backhand. Looks to run around. Also hits some good forehands, dictates the play. He's here for a reason, and I congratulate him for great success."
"It's his first semi-final of a Grand Slam, so for him it's the biggest success he has had so far," Djokovic continued. "He doesn't have anything to lose, really. He's motivated. I expect him to come out and really go for his shots and try his best and try to take that win." 
Born in Vladikavkaz, Russia, at the foothills of the Caucasus Mountains, Karatsev has never really settled in one spot. He's hopscotched from Russia to Israel to Germany to Spain to Belarus, with intermittent returns to his homeland tucked in between.
"I was moving, I would say, too much," said Karatsev, who noted that his cell phone lit up with 200 or so WhatsApp messages after his 2-6, 6-4, 6-1, 6-2 dismissal of Dimitrov in the quarter-finals. "In the end, I found a coach, Yahor Yatsyk, and this is the right guy for me. He's helped me a lot on the mental part and, of course, there is the technical stuff, as well."
Karatsev has been relegated to the ATP Challenger circuit in recent years, unable to break through qualifying at the majors. He was 0-for-9 until snapping that skid in Melbourne. Had he not suffered a serious knee injury in 2017, one that sidelined him for six months, that breakthrough might have come sooner. But the 27-year-old is clearly making the most of his opportunity.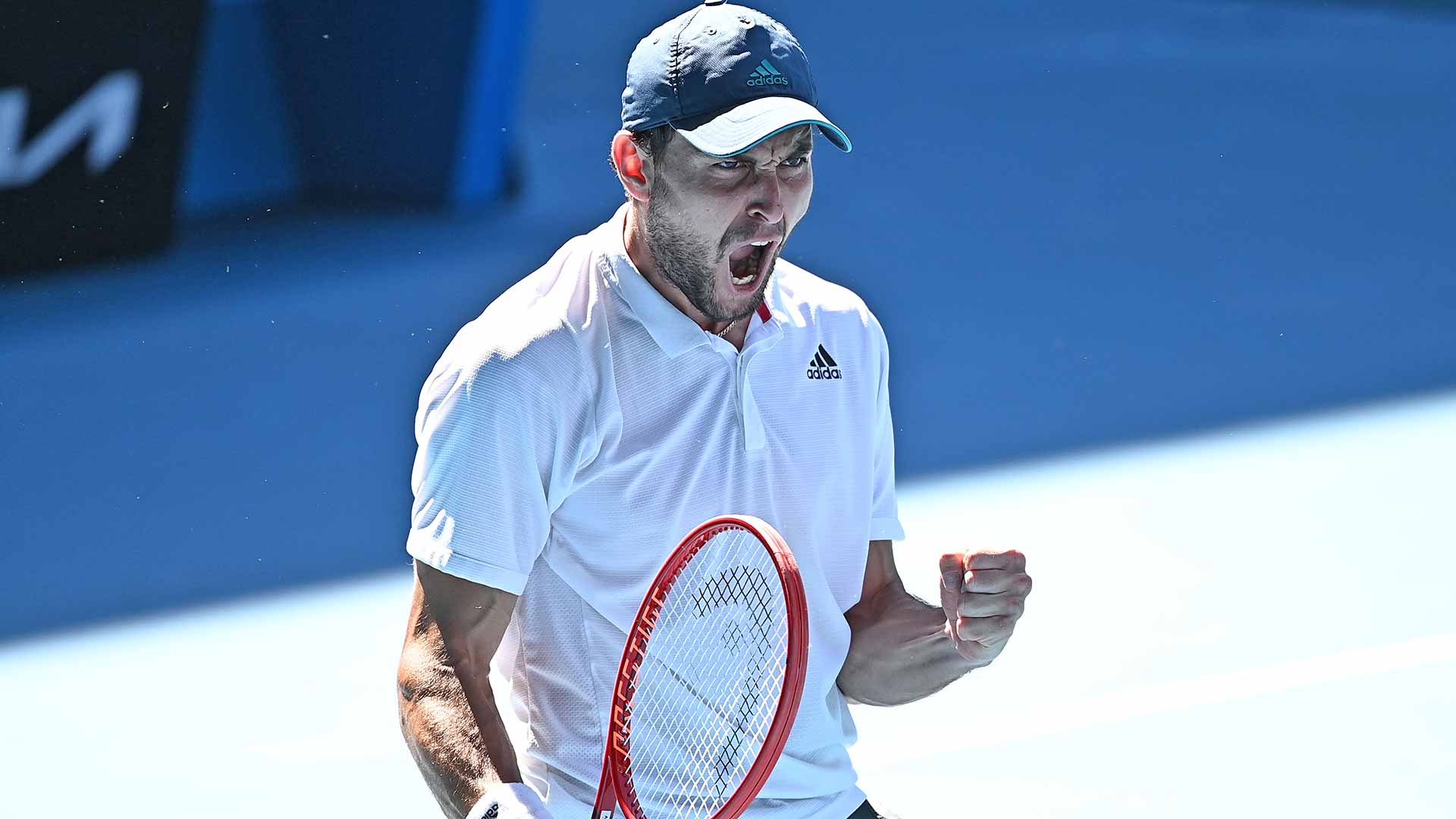 "Surprised? I'm not," said Dimitrov of Karatsev, who won 22 of his final 25 ATP Challenger matches last year, including titles in Ostrava and Prague. "He needs to take it in. He needs to appreciate it. He's a great player. To be here, clearly, you've done something right. You've put in the work, you've gone through the quallies, went through tough and good matches, built up confidence. There's so many positives, so why not for him to go further?"
Karatsev, along with victorious ATP Cup teammates Daniil Medvedev and Andrey Rublev, has helped make history at Melbourne Park. Three Russian men reached the quarter-finals of a Grand Slam for the first time in the Open Era. Just don't expect Djokovic to get too caught up in the hoopla. As Alexander Zverev can attest, until someone can prove otherwise, this is Nole's turf; we just exist in it.
"This is his favourite court. This is his favourite tournament," said the German, a 6-7(6), 6-2, 6-4, 7-6(6) victim in the quarter-finals. "To be able to have a chance against him, you have to be playing extremely well. You have to be playing aggressive tennis, I think, being the one that dominates."
No easy task. Especially in Melbourne.